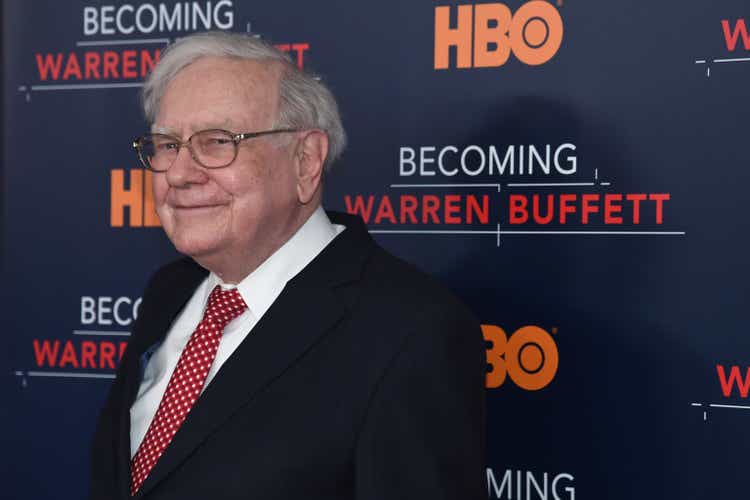 Co-produced with "Hidden Opportunities"
Billionaire Warren Buffett began investing during World War II. Since then, the U.S. stock market has experienced 14 bull-bear cycles. The Oracle of Omaha built his fortune buying deep bargains during selloffs.
Mr. Buffett likes to take small risks for massive upside potential. Most importantly, he likes to get paid to wait. In recent decades, he has shown a lot of favoritism for preferred securities. Let us examine his moves during recent bear markets:
Iraq War: In late 1989, the then-struggling paper and wood products manufacturer, Champion International Corp., caught Mr. Buffett's attention. He jumped into the battleground, placing $300 million to buy Champion's preference stock. This security carried a fat 9.25% dividend at the time and was convertible into 7.9 million common shares.
In the months (years) to follow, the media was ruthless, claiming such bets destroyed Mr. Buffett's batting average, but the Oracle of Omaha did not flinch.
Years later, he doubled his investment in Champion (while collecting his waiting fees) and converted hundreds of millions of paper profits into real ones by selling when everyone was ready to buy.
Great Financial Crisis: The American financial system collapsed, and investors feared touching any banking stock with a ten-foot pole. During some of the darkest hours of the crisis, Mr. Buffett poured $5 billion into Goldman Sachs' (GS) perpetual preferred shares. This preferred security carried a 10% yield, and Mr. Buffett collected $500 million a year to wait for the company and the industry to recover. Source.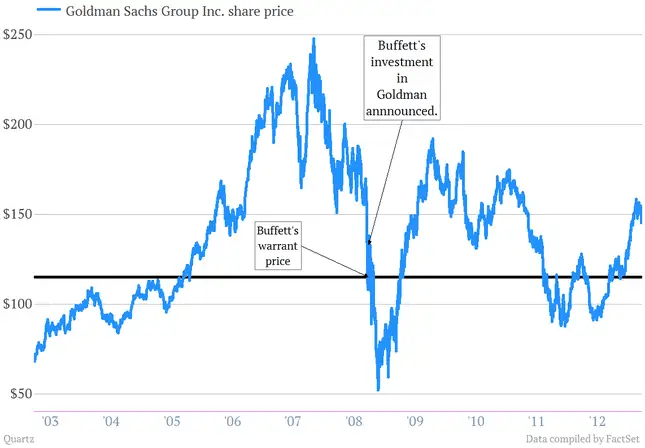 The Oracle of Omaha wasn't spot on with his timing. The warrants associated with the investment were underwater for a while, but Mr. Buffett quietly collected his waiting fees and made a 62% return on his 5-year investment in GS.
There are many more success stories for Mr. Buffett and his patient use of preferred shares. We are at yet another bear market today, and fear is in the air. We encourage you to buy into this fear and lock in hefty waiting fees.
Following are two fat-yielding preferred picks to get you started.
Pick #1: COF Preferred – Yields Up to 6.4%
Capital One Financial Corporation (COF) is one of the largest and safest banking institutions in the U.S. The company offers a wide range of credit solutions, everyday banking, and other financing services for consumers and businesses and is a leader in digital transformation among financial institutions. In 2022, COF beat The Toronto-Dominion Bank (TD) and JPMorgan Chase (JPM) to secure the highest ranks for customer satisfaction in the J.D. Power 2022 U.S. National Banking Satisfaction Study. The banking and credit solutions leader also achieved the most patent wins in 2022 in the financial services industry.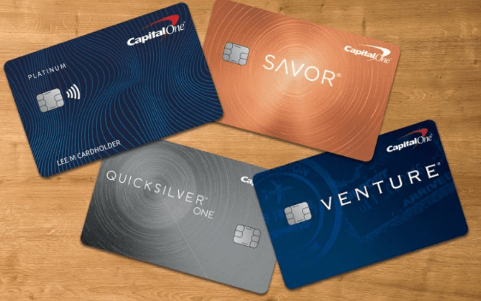 COF is historically known to offer credit cards to customers with less-than-ideal credit scores. Since the bank's customer base is composed of people who could be hit hardest by a recession, the company is uniquely vulnerable. Not surprisingly, COF booked charge-offs of $1.43 billion in Q4 (up 171% YoY). Similarly, COF reported that their credit card delinquencies of 30+ days jumped to 3.46% (up from 2.28% in December 2021), and consumer banking loans jumped to 5.53% (up from 4.26% in December 2021). These figures are at their highest levels since 2019.
COF pays a modest 2.2% common dividend at a healthy payout ratio of ~13%. COF common stock trades at a 7.2x forward P/E and a P/B value of 0.91. During Q4, the bank repurchased approximately $150 million of its common stock, bringing the repurchases for FY 2022 to $4.8 billion (under 10% of the bank's market cap).
COF ended FY 2022 with capital adequacy ratios well above its target levels and regulatory minimums. COF carries some credit risk, but unemployment trends near record lows, and the labor market remains tight. The likelihood of a "jobful" recession is very high.
COF maintains an A- rated balance sheet, and Fitch Ratings expects the bank to maintain capitalization ratios above its target range and well above regulatory requirements. Overall, COF is well-positioned to maintain lending through difficult economic conditions, and we see a terrific opportunity in its undervalued preferreds.
COF preferreds offer yields of up to 6.4% to wait patiently for up to ~50% capital upside.
Note: COF preferreds are non-cumulative. Due to their need to maintain stringent capital requirements, it is standard for U.S. banking and insurance companies to issue non-cumulative preferreds.
During FY 2022, COF spent $228 million on preferred dividends, $4.1 billion on interest expenses, and $950 million on common stock dividends. These are adequately covered by the bank's $13.8 billion in net cash from operating activities. Overall, the preferred dividends enjoy adequate safety and present an excellent opportunity to lock in sizable qualified yields from a leading banking institution.
Pick #2: SPNT Preferred – Yield 9%
SiriusPoint Ltd. (SPNT) is a global underwriter of insurance and reinsurance, providing solutions to clients and brokers globally. SPNT is headquartered in Bermuda and has licenses to write Property & Casualty and Accident & Health insurance and reinsurance globally. Source.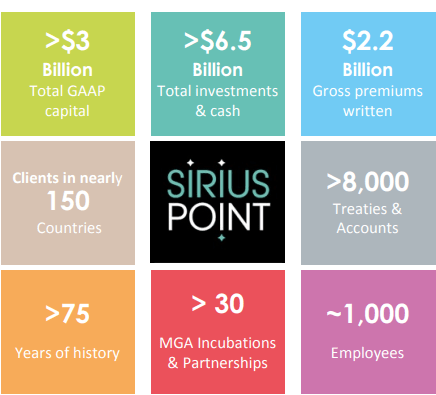 SiriusPoint is a company in its transformational stages. Formed from the Triple Point – Sirius Group merger in 2021, the company is still working towards simplifying its operating structure, improving its underwriting methods, and enhancing the quality of its investment portfolio.
As part of its transformation into "One SiriusPoint," the company continues to improve underwriting and project cost reduction of >$50m by 2024. The company is also moving away from hedge funds to pursue higher-quality investments through fixed-income securities. At the end of FY 2022, SPNT's portfolio was primarily fixed income-focused, short duration, and high quality.
We have limited exposure to BBB and below investment-grade bonds while the average credit rating of our fixed income portfolio is AA. – Scott Egan, CEO, Q4 2022 Conference Call.
During FY 2022, the company's Combined Operating Ratio ("COR") was 102.1% (a YoY improvement of ~9 ppts). While this isn't a sign of great underwriting health, it is visible progress, and management is guiding further improvement during 2023. It is also important to note that 2022 was a rough year for the insurance business due to heavy catastrophic events and estimates ("CAT").
Our CAT losses within our core results were significantly lower at $138 million in 2022 versus $326 million in 2021 despite 2022 being a heavy cat year for the global insurance industry – Scott Egan, CEO, Q4 2022 Conference Call.
SPNT's transformation is underway, and the company is still not ready to reward common shareholders with dividends. We will focus on SPNT's preferreds, which have several unique characteristics compared to other preferreds from the industry.
SiriusPoint Ltd 8.0% Series B Cumulative Resettable Fixed Rate Preferred Shares (SPNT.PB)
The SPNT-B preferred was structured at the time of the Third Point – Sirius Group merger and was designed with very attractive features for shareholders and was not intended to raise capital from the public markets. SPNT-B enjoys an above-average 8% coupon with a lucrative reset-rate structure post-redemption date, providing an excellent defense against inflation. This preferred is also cumulative, a rare feature in the financial services industry, providing significant protections to shareholders.
SPNT is rated A- by S&P, AM Best, and Fitch, and its preferred is rated BB+.
In FY 2022, the company spent $16 million on preferred dividends and $38.6 million on interest expenses. This is a small fraction of the $914 million in cash and cash equivalents on SPNT's balance sheet at the end of FY 2022. The company adequately covered these expenses by $113 million in Net Investment Income ("NII") for the year (vs. $25 million in 2021). SPNT is projecting NII to double between $220-240 million for FY 2023, substantially improving the preferred shareholders' risk posture.
SPNT-B has 13% upside to par value, but readers must note that this security traded as high as $29.7 just 18 months ago in the yieldless market. The preferred has a reset-rate clause; if unredeemed on February 2026, the coupon will be 7.298% + the 5-Yr Treasury yield. Thereafter, SPNT-B may be called on any subsequent 5-year Reset Date. In all scenarios shown in the calculation below, this security is well-positioned to yield much more in 3 years, making it an excellent long-term inflation hedge.

SPNT-B presents a low-risk investment in this fear-stricken market with excellent rewards and rare protections. You can sit back and collect large qualified dividends (9%) through this bear market and beyond.
Conclusion
Warren Buffett is an excellent example of a ruthless capitalist, seeing opportunities in almost every crisis he came across. The Oracle of Omaha is also an inspiration for millions of investors. But he didn't attain his success by buying what everyone talked about and selling when the headlines were flashing red.
Sell when you can, not when you have to – A popular Wall Street quote.
Buffett built his success by being hungry for opportunities, and many of his purchases were, on paper, "underwater" for many years, but the Oracle of Omaha didn't care. He made his pick, collected hefty waiting fees, and came out successful years later, and everyone was left in awe.
High Dividend Opportunities follows the Income Method, a concept that mirrors several principles of Mr. Buffett's investing style. We like to collect large dividends while traversing market cycles. Our 'model portfolio' comprises +45 stock and a list of +50 preferred securities with an average of +9% yield to choose from. We aim to grab Buffett-style opportunities!
You like to wait in line for your ice cream, and the time you spent is worth the delicious cone in your hand. With the income method, you get paid big bucks for waiting. Two preferred picks with up to 9% yields to grab when everyone is afraid.