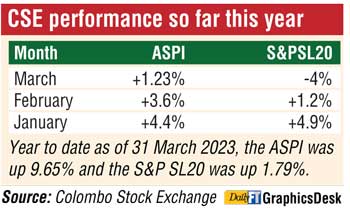 The Colombo stock market appears to be struggling judging the performance in the first quarter of 2023.
It ended the quarter on a mixed with the benchmark All Share Price Index (ASPI) managing a gain whilst the active S&P SL20 suffered a 4% dip, the first in three months. On the other hand monthly gain of ASPI has been waning too.
Nevertheless, as at 31 March, the Colombo stock market remains positive year to date with ASPI up 9.65% and the S&P SL20 up by 1.8% though the latter may turn negative this week if investor sentiment remains mixed as seen in recent weeks.
The average daily turnover in the first quarter has been around Rs. 1.8 billion reflecting lack of investible cash with investors switching to high yield money market options.
In 2022 the ASPI and the S&P SL20 lost 30.6% and 37.7% respectively whilst recording an average daily turnover of Rs. 2.97 billion. However, CSE drew Rs. 30.6 billion in net foreign inflow, which was a 10 year high. 
Table
CSE performance so far this year
Month                 ASPI                       S&PSL20
March                   +1.23%                 -4%
February              +3.6%                    +1.2%
January                +4.4%                    +4.9%
Year to date as of 31 March 2023, the ASPI was up 9.65% and the S&P SL20 was up 1.79%.