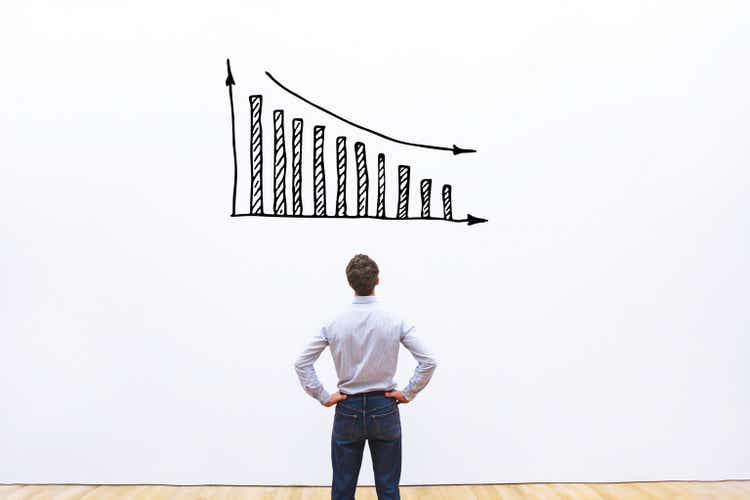 Executive Thesis
Big Lots, Inc. (NYSE:BIG) has been having a terrible year. For FY 2022, cash flow was a negative $300 million, with the company drawing down an approximately equal amount on their revolver. Alarmingly, the company cites stimulus payments in calendar years 2020 and 2021 as one of the main reasons for the worsening y/y comps (in addition to macroeconomic headwinds).
Big Lots, Inc. stock is now trading at less than 50% of book value, at around $10.25/share at the time of writing or a $300 million market cap, levels not seen since the 90s. This begs the question, why hasn't the company suspended the dividend? And if they can afford it and are not violating any covenants, why not initiate stock buybacks at historic lows instead?
If the company can turn itself around to even a modicum of prior profitability, our models indicate the present value of future cash flows could be over $650 million, significant upside from current market quotations. Buying back shares would increase shareholder value over the long term and give the company the flexibility to sell stock on the open market later if needed to pay down debt or invest in the future.
Company Overview
Big Lots, Inc. is a home discount retailer operating in 48 states, with a merchandising strategy consisting of three parts. The bargain hunt, the treasure hunt and essentials. The bargain hunt seeks to offer low prices on name brand goods, with the company using strategies like buying surplus or discontinued goods from manufacturers to offer their customers a discount. The treasure hunt offers quirky or seasonal goods in order to delight their customers and the essentials offers food and other consumer staples. The company believes their merchandising approach delights customers and draws them to their brick-and-mortar retail locations in search of good deals and fun products.
Paying Dividends, a Missed Opportunity?
The Big Lots, Inc. decision to keep paying the dividend in FY 2022 is questionable, and it continues to be questionable moving forward. The company had negative $300 million in free cash flow for the year, and paid $37 million in dividends, using debt drawdowns on its revolver to do so. If the company theoretically operates poorly for another year and loses $200 million before hopefully initiating a turnaround, we would be left with approximately $550 million in stockholder equity in January 2024.
Let's say you're a theoretical 10% holder in the company. If you took your dividend in FY 2022, you'd get a nice $3.7 million. If, instead, the company was able to buy back 10% of the shares outstanding, your ownership would then be 11.1%, instead of just 10%. This would leave the owner with a theoretical extra $6 million in equity in January 2024, for the price of omitting a $3.7 million dividend. Additionally, it would increase the owner's realization through the present value of future cash flows, which we will touch on next.
Valuation
For my model, I assumed the company would be free cash flow negative in FY 2023, as guidance is suspended and management is expecting slight improvements for the year. I assumed that when macroeconomic headwinds hopefully ease by FY 2024, the company would be able to return to a modicum of their previous profitable operating history, generating $100m in free cash flow per year, and not growing at all until their eventual decline. I believe these to be relatively conservative estimates, as the company has been able to generate much higher free cash flow during profitable years in the past. This would place the present value of the company at $689 million.

Using our 10% owner example, if no stock buybacks were completed, the realizable present value would be $69 million. If instead the 2022 dividends were replaced with stock buybacks, the present value for this owner would be $76.5 million. So, by omitting $3.7 million of dividends in 2022, the owner would have theoretically increased their equity value by $6 million in 2024 and their PV of cash flows by another $7.5 million. Combined, this can be considered more than 3x the return to shareholders with stock buybacks vs. paying a dividend.
Risks
Capital Allocation Questionable
In addition to the dividend issue, Big Lots, Inc. opened 4 new small format logistics centers which total 1.5 million square feet between 2021 and 2022 and has decided to close these centers in 2023 due to decreased demand. This calls into question a few things including if the opening of these centers were wise in the first place, what kind of restructuring costs will be incurred by the company to close them and how much less demand can investors expect?
Competition
The retail industry experiences intense competition. Although BIG cites it fulfills a niche with its treasure hunt strategy, other discount retailers with similar strategies exist such as The TJX Companies, Inc. (TJX).
Merchandising Strategy
The company mainly sells nonessential goods that are dependent on foot traffic and strong consumers. This causes the company to incur extra costs with the frequent need to close and open stores to respond to consumer demand as well as increases susceptibility to cyclical economic swings.
Book Value Consists Mainly of Inventory
Adding to the margin of safety when betting on this turnaround is the current market price being significantly lower than book value. The company has over $1 billion of inventory on the balance sheet, which is prone to write downs when retailers are struggling to make sales. This could erode this appearance of safety.
Conclusion
In my opinion, paying dividends over performing share buybacks at current market quotations is more beneficial to shareholders in two scenarios. One, if Big Lots, Inc. will go bankrupt in the next few years, and two if the company will earn just enough to service debt and have no return leftover for shareholders. Both of these scenarios would warrant selling Big Lots stock. Our models estimate that if stock buybacks were performed instead of dividends, shareholder value realization would be increased by a multiple of 3.
Grievances aside, we estimate the value of Big Lots, Inc.'s potential future cash flows at approximately $680 million, indicating significant upside for enterprising investors interested in speculating on a turnaround. I personally am going to hold off on purchasing for now, as I am already exposed to the sector with some of my other positions and due to questions about capital allocation strategy. I am giving Big Lots, Inc. stock a hold rating for now and will reassess if signs of a turnaround or more shrewd capital allocation strategies present themselves. If Big Lots, Inc. continues to draw down debt, pay the dividend all while the stock remains depressed over the next year, serious questions about capital allocation strategy need to be addressed.