Listen to this article
Mutual funds continue to form a modest slice of the total pie of household savings. As per Edelweiss MF Report, they contribute only 9.7% to the total financial savings as on March 2022.
Bank deposits continue to have a humungous share of 52.3%, followed by life insurance funds (23.9%) and currency (13%).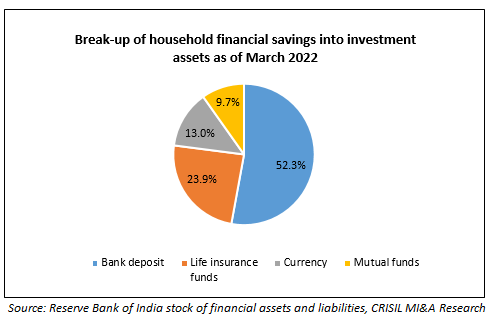 The low mutual fund penetration is also reflected in the modest contribution of B-30 cities. "Despite the industry reaching Bharat, mutual funds are still at the bottom when it comes to investment preference", said the report.
It added, "Much needs to be done to improve the penetration of the industry in the country, both in terms of cornering a larger pie of household savings as well as better allocation of money for the populace."
Low investor count
The MF industry and investor folios have respectively grown by 60% and 70% since April 2019. While the growth is significant, the investor count is only a fraction of the working population aged 15 to 64 years.
To elaborate, the industry assets stand at Rs. 40 lakh crore as on December 2022 and the folio count is 14 crore. If we conservatively assume that each investor holds four folios, the investor count stands only at 3.5 crore. This forms less than 4% of the total working population of over 94 crore, says the report.
Like what you are reading?
Login to get instant access to this article and many other such articles on business
development, success stories and industry updates.
Don't worry … it's FREE!