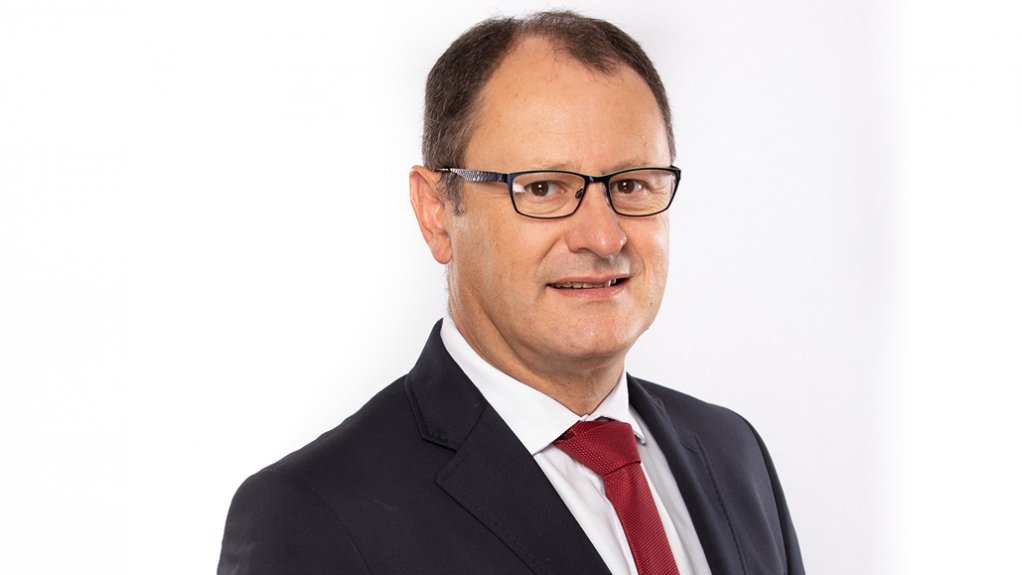 JSE-listed aggregates and mining company Afrimat's executives on February 17 reported to shareholders that the company was performing well in difficult times and that there were several projects that have successfully come online during the past year.
The company's diversification has helped it to offset some of the headwinds it is facing and its bulk commodities division has helped it to achieve this, CEO Andries van Heerden highlighted during a briefing prior to the company entering a closed reporting period for its financial year to end on February 28.
The bulk commodities division consists of its Demaneng and Jenkins iron-ore mines, as well as its new anthracite mine that it bought out of business rescue and is turning around, he said.
"Jenkins is a relatively new mine that we brought into production in the previous financial year and ramped up to full potential towards the end of the previous financial year, and it has contributed well to our results during the past year.
"However, we could have done better. The mine has been designed for 125 000 t a month, but our client declared force majeure twice because of the underperformance of [State-owned] Transnet owing to various challenges.
"Despite this, Jenkins helped to soften the blow of a weakening iron-ore price – which is at a more realistic level this year – and the headwinds the whole business is facing," he said.
Further, the company views its Komati anthracite mine as an exciting prospect, as its anthracite is of high quality and low sulphur, although it is not easy to mine.
The mine has difficult geology, challenging environmental requirements and three communities to engage.
Afrimat spent a lot of money on exploration to make sure it understood the geology and continues to explore to ensure it improves its understanding and to find more sources, which it has, Van Heerden added.
"We have opened a new pit called the North-East extension from which we are currently producing. We are busy with another openpit expansion called Block-L, and we should be in the coal within two to three months.
"Further, our underground access is about a month away from the production stage and we are planning to get good levels of production from all the pits and three mining areas by May or June. We are also upgrading the plant to produce a bit more than it currently does," he added.
"Komati is an exciting opportunity this year compared to the last in which we turned it around. It was loss-making and, at half-year, we had turned it profitable, having staunched the bleeding and starting to fix it. We have provided guidance on the capital we have allocated to get the business to the required level, and we are very close to achieving this," he said.
In its construction materials division, Afrimat saw the impact on the sector in the decline of cement sales from its businesses. It has worked to diversify its businesses and continues work to optimise them.
"The construction materials business is not doing badly, but we are not at the same levels of volumes and activity as we were in 2017. There has been a definite shift in the market to the lower-end, with higher-end commercial building and even some government spending on infrastructure not happening. However, we are confident in a pickup in demand."
Meanwhile, Afrimat's industrial minerals businesses have been hit the hardest by loadshedding.
"In our other businesses, we have managed to get around loadshedding through careful planning and the use of diesel generators. In the case of our industrial minerals, kilns are extremely difficult to run economically with diesel generators. We saw a decline in volumes towards the end of the year when the country went beyond stage 3 to 4 loadshedding.
"We are working to negate these impacts and on better solutions, but the businesses are impacted," he said.
Further, the company's new Glenover project is a future minerals business that sits with three strategic minerals on the same site, namely phosphate, rare earth minerals and vermiculite.
"Phosphate is quite scarce in South Africa and is a component of fertiliser. We also underestimated demand for vermiculite and the market is bigger than we expected. We think overall it is a good business that will be exciting going forward," said Van Heerden.
Additionally, Afrimat has completed the first stage of the first phase by producing phosphate rock. The important next part is to build the single super phosphate (SSP) plant, which is in the construction phase and is expected to be up and running by July or August, he said.
"The important first parts are the SSP and vermiculite plants. The phases after this will look into nitrophosphate aspects of the project, with some interesting alternatives having emerged over the past few months. We also expect to continuously improve as we get deeper into optimisation.
"The rare earth projects will lag a bit behind these other projects, but have good strategic value," he added.
Meanwhile, Afrimat CFO Pieter de Wit highlighted that the company's balance sheet remained very strong. It had raised capital that it used in Komati and Glenover, and had bought back shares that it would use in part to pay for Glenover.
"Even after these projects, our net debt to equity is still low. Our balance sheet is strong, and we are well positioned for opportunities that may come out of this difficult time," he said.
In terms of health and safety, Afrimat achieved its lowest ever lost-time injury frequency rate of 0.34, which is a huge milestone, but the company wants to see this number drop further, highlighted Afrimat executive director Collin Ramukhubathi.
"We will continue to work hard to reduce this number so that no employee is hurt in the business. We also continue to rely on external health and safety audits that help us to ensure our businesses are safe.
"This helps when the Department of Mineral Resources and Energy conducts audits and, so far in the past year, we have not had a situation where we had to shut down because of an unsafe work environment," he said.
He noted that, with 45 mining rights, the company had about two to three audits each week.
Additionally, the company had done significant work to ensure its social licence to operate remained intact in the communities near its operations, he said.
"Afrimat takes great effort to ensure that its impacts on communities are informed by engagements with them and that the highest quality is adhered to when developing infrastructure," said Ramukhubathi.