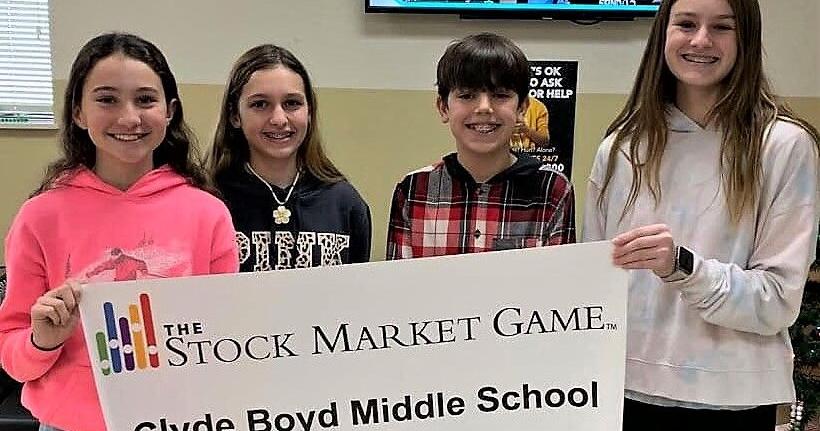 For Sand Springs residents who need sound advice on investing in the stock market, there are some new experts in town.
They just have to be home by dark.
Under the direction of teacher Sandy Gilstrap, the sixth-grade Gifted and Talented class at the Clyde Boyd Middle School Sixth Grade Center recently brought home bragging rights and a backpack full of virtual money after taking part last fall in the Stock Market Game.
In their group of about 28 teams, two of the Gifted and Talented class's five teams placed in the Top 10, and one team won first place, Gilstrap said.
The Stock Market Game — available for free to all Oklahoma public and private school students in grades 4 through 12 through the nonprofit Oklahoma Council on Economic Education — is a 10-week simulation of a real stock market, designed to immerse students in the world of finance and investing as part of a market economy.
For competition purposes, teams of three to five students each are separated into two divisions — grades 4-8 and 9-12 — and four regions — northeast, northwest, southeast and southwest.
Teams are "given" $100,000 to invest in the real-time market and compete based upon their portfolio performance over the course of the game. Rankings are determined by the value of the common stocks, mutual funds, bonds and cash in the ending portfolios.
The winning team from the sixth-grade Gifted and Talented class — the self-named Princesses and the Frog, in a nod to its having three girls and one boy — was composed of Emmrie Canterbury, Teigon Durrance, Kennedy Graves and Mackaya Kanotz.
Gilstrap said the team grew its $100,000 into roughly $120,000 over the 10-week game.
But as with any game in school, while the fun and the winning are important, the lesson is the point. And she said this one was a hit.
"They are very competitive in this room. They love to debate and have conversations" about serious topics, she said. "They were very competitive. I don't think there was anyone who wasn't very interested. They're very into research."
That's a good thing, because there was plenty of research to be done.
During a concurrent classroom unit early in the game, students learned about what makes a company, private vs. public companies, and risk and diversification, as well as how the stock market operates.
But even after the classroom study unit had ended, the Stock Market Game continued, and so did the learning, Gilstrap said.
Students explored how to read a company's portfolio and compare it to others, how to read stocks pages and how to watch the fluctuations in the market to help them decide when to buy, sell or hold.
Gilstrap said the students were fortunate that the stock market closed each day during seventh hour, when the class meets.
"It really was a game," she said. "We watched it every day — we watched the stock market ticker" running across the bottom of their computer screens.
Gilstrap said she also tried to make the lessons relevant to students by bringing in companies with which they're familiar, such as Hershey's, Nike and other well-known brands.
There were still some surprises.
"They didn't know how many companies Pepsi actually owns," she said.
Pepsi — aka PepsiCo Inc. — is the second-largest food and beverage business in the world, behind only Nestlé. In January 2021, it possessed 23 brands that had more than $1 billion in collective sales annually.
Not all of the students were new to the intricacies of finance and investing, though, according to Gilstrap.
"Several of the kids already play the stock market with their grandparents," she said.
');
var s = document.createElement('script');
s.setAttribute('src', 'https://assets.revcontent.com/master/delivery.js');
document.body.appendChild(s);
window.removeEventListener('scroll', throttledRevContent);
__tnt.log('Load Rev Content');
}
}
}, 100);
window.addEventListener('scroll', throttledRevContent);