Republican Congresswoman Marjorie Taylor Greene of Georgia says that a so-called "national divorce" is needed to avoid a civil war.
Greene defended the "divorce" plan, which she proposed in a tweet on Monday morning, during an interview with Fox News host Sean Hannity on Tuesday night. Greene argued that the move was necessary because conservatives were tired of being "bullied by the left."
The congresswoman, who experienced her own personal divorce after ex-husband Perry Greene filed to end their 27-year marriage last year, insisted that dividing up states along "red" and "blue" lines while somehow preserving a federal union would not lead to a new civil war.
"Everyone I talk to is sick and tired and fed up of being bullied by the left, abused by the left and disrespected by the left," Greene told Hannity. "Our ways of life have become so far apart that it's just coming to that point."
"The last thing that I ever want to see in America is a civil war," she continued. "No one wants that … but it's going that direction and we have to do something about it."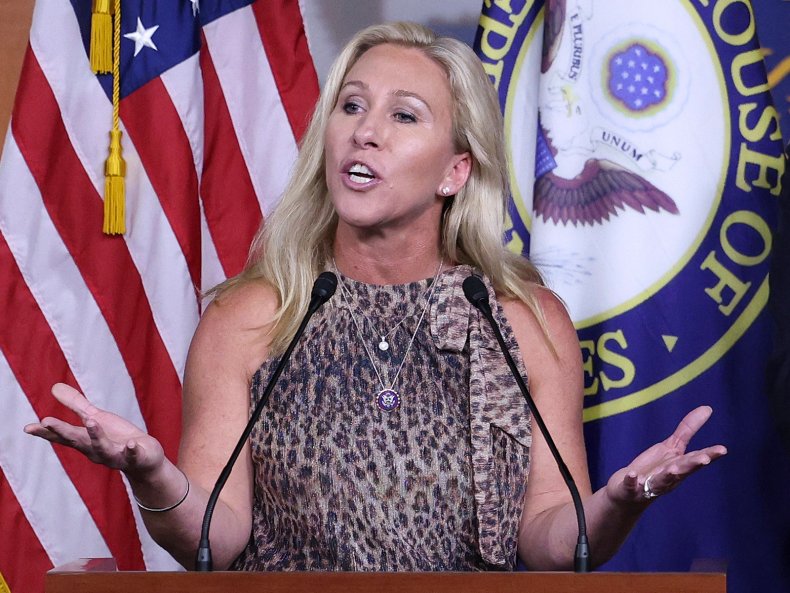 The congresswoman went on to say that red states needed to become independent due to environmental, social and corporate governance (ESG) initiatives in businesses and "ideas and ideologies" taught in schools that she claimed include "children having their gender changed or transitioned."
Greene suggested that her divorce idea was popular due to "the amount of likes and retweets" that her proposal received on Monday. The initial tweet had 76,500 likes and 10,300 retweets at the time of publication, although it had been viewed at least 31.1 million times.
Greene, who argued that her plan was in line with "the vision the Founding Fathers had for America," insisted that her divorce plan was "not civil war" while sharing a clip from the interview to Twitter on Tuesday.
"National Divorce is not civil war, but becoming a necessary reality because of our irreconcilable differences," she tweeted. "The federal government is a monster and has become a weapon of the left against the right."
Although it is unclear how Greene's proposal could be legally feasible under the current U.S. Constitution, she revealed some details of her plan in a series of tweets earlier on Tuesday.
"Reducing the federal government would be easy," Greene tweeted. "States would completely control things like education, trade and commerce, and communications to a much larger degree and the federal government to a much smaller degree."
In education, Greene said that red states would start allowing prayer in school and require students to stand for the national anthem, while claiming that their Democratic counterparts would replace the American flag with "pledges to identity ideologies like the Trans flag and BLM."
The congresswoman said that post-divorce red states would no longer "have to abide by climate cult lies" and "would be completely free to build and use fossil fuel energy for their citizens."
Police in red states "would be well trained, paid, equipped, and seen as heroes once again, not portrayed as racist thugs," according to Greene, while the blue states would consider "abolishing the police" and "immediately disarm their citizens."
Critics of Greene, including Democrats and Republicans, did not view the congresswoman's divorce plan favorably, with a number of prominent figures denouncing the idea shortly after the proposal was made.
Some also argued that the plan was unlikely to ever come to fruition, citing the last time states attempted to break away, which resulted in the American Civil War.
"I think Abraham Lincoln dealt with that kind of insanity," Republican Senator Mitt Romney of Utah told reporters on Tuesday, according to The Salt Lake Tribune. "We're not going to divide the country. It's united we stand and divided we fall."
Newsweek has reached out to Greene's office for comment.