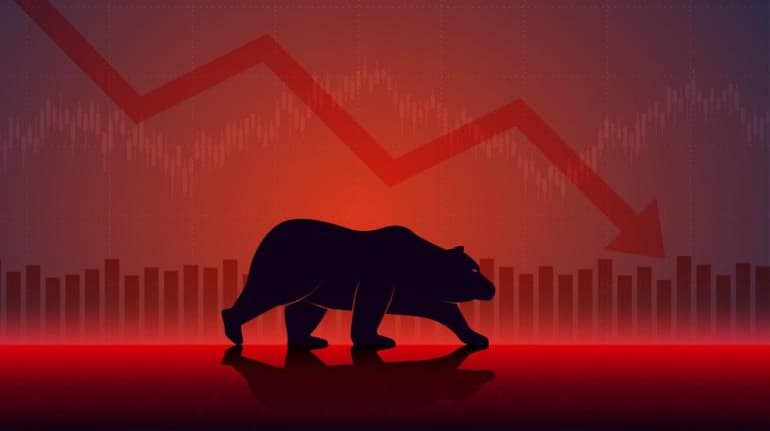 FIIs sold shares worth Rs 158.95 crore, whereas DIIs invested Rs 86.23 crore on Monday.
The market is expected to open in the red on Tuesday as trends in the SGX Nifty indicate a negative opening for the broader index in India with a loss of 12 points.
The BSE Sensex declined 311 points to 60,692, while the Nifty50 fell 100 points to 17,845 and formed bearish candle on the daily charts with making lower highs-lower lows for the second straight session.
As per the pivot charts, the Nifty has support at 17,818, followed by 17,774 and then 17,703. If the index moves up, the key resistance levels to watch out for are 17,960, followed by 18,004 and 18,075.
Stay tuned to Moneycontrol to find out what happens in the currency and equity markets today. We have collated a list of important headlines across news platforms which could impact Indian as well as international markets:
Asian Markets
Asia-Pacific markets fell on Tuesday as investors await regional private surveys for factory activity.
In Australia, the S&P/ASX 200 fell 0.43 percent. In Japan, the Nikkei 225 fell 0.16 percent and the Topix was marginally lower. South Korea's Kospi also slipped 0.2 percent.
SGX Nifty
Trends in the SGX Nifty indicate a negative opening for the broader index in India with a loss of 12 points. The Nifty futures were trading around 17,852 levels on the Singaporean exchange.
Oil rises 1% on China demand hopes and supply concerns
Oil prices rose over 1 percent on Monday, buoyed by optimism over Chinese demand, continued production curbs by major producers and Russia's plans to rein in supply.
Brent crude settled up $1.07, or 1.3 percent, at $84.07 a barrel. US West Texas Intermediate crude (WTI) for March, which expires on Tuesday, last rose 85 cents, or 1.1 percent, at $77.19.
Japan's factory activity shrinks at fastest pace in 2-1/2 years-PMI
Japan's manufacturing activity contracted at the fastest pace in 30 months in February, a business survey showed on Tuesday, in a worrying sign for the world's third-largest economy, which is facing weakening demand and struggling to tame cost pressures.
The au Jibun Bank flash Japan manufacturing purchasing managers' index (PMI) fell to a seasonally adjusted 47.4 in February, from a final 48.9 in the previous month.
Dollar rally loses steam as traders wait on Fed, data
The dollar was parked below recent peaks on Tuesday, as a three-week rally faded and traders waited on economic data to figure on whether it's warranted to push the dollar up any further.
The dollar stood steady at 132.24 yen and $1.0687 per euro , with the common currency finding strong support above $1.06. The US dollar index has climbed three weeks in a row for a gain of about 1.7 percent through February so far, but has steadied at 103.86, down from a six-week high of 104.67 hit on Friday.
India will continue with efforts to curb inflation: Finance Minister
The Indian government and the central bank are taking steps to control inflation, Finance Minister Nirmala Sitharaman said on Monday, as retail prices have again risen above comfort levels.
Among other moves, the government has increased the import of edible oil as required to rein in inflation and provided free grains to the poor since the Covid-19 pandemic, and would "continuosly monitor prices," Sitharaman said.
Economists have said the soaring prices of cereals such as wheat and rice were a concern for the Indian economy even though the January inflation data may have overstated the extent of the increase.
January aviation data: Domestic passenger traffic nearly doubles on year on a low base
India's domestic air traffic in January nearly doubled, when compared to the same month last year. The number climbed to 125.42 lakh passengers carried, data released by the Directorate General of Civil Aviation (DGCA) on February 20 shows.
However, domestic air traffic fell 1.5 percent in January when compared with December 2022's reading which stood at 127.35 lakh passengers. The air traffic still remained lower than pre-Covid levels. In January 2020, domestic airlines flew 127.83 lakh passengers.
El Niño could drag rural recovery: Nuvama
El Niño, which occurs every three to six years, could derail the recovery in the rural FMCG (fast-moving consumer goods) market, believes Nuvama Institutional Equities.
El Niño is the abnormal heating up of surface ocean waters that lead to changes in wind patterns and impacts weather across the world. The US government's National Oceanic and Atmospheric Administration has indicated the possibility of El Niño conditions developing this year.
In India, the last El Niño event of 2018 coincided with below-normal rainfall, notes Nuvama. "Since then, India witnessed four good monsoons in succession. Hence, the probability of a fifth normal monsoon looks a bit challenging at this stage," it added.
FII and DII data
Foreign institutional investors (FII) sold shares worth Rs 158.95 crore, whereas domestic institutional investors (DII) bought shares worth Rs 86.23 crore on February 20, NSE's provisional data showed.
Bank of Korea to hold rates despite still high inflation – Reuters poll
The Bank of Korea will hold its base interest rate at 3.50 percent on Thursday and for the rest of this year, suggesting its longest tightening cycle on record is over despite still high inflation, a Reuters poll of economists found.
After raising rates by 300 basis points since August 2021, the BOK is managing a shrinking economy – the 0.4% contraction last quarter was the first in 2/1-2 years – as well as falling exports and high household debt.
All 42 economists polled February 13-20 predicted no change to the 3.50 percent base rate, already the highest since late 2008, at the central bank's February 23 meeting.
With inputs from Reuters and other agencies