Share:
TRON outperformed its competitors Ethereum, XRP and Cardano and ranked first by total transaction count. 
The blockchain network managed to outperform projects that rank in the top 20 cryptocurrencies by market capitalization, driving its usage and adoption higher. 
TRON's latest partnerships have fueled a bullish narrative among TRX holders. 
TRON's Total Value Locked has been in an uptrend for a few weeks and the token's on-chain metrics are aligned with bulls' interests. A recent chart posted by the TRON community revealed a steady increase in the network's transaction count since September 2022. 
Also read: TRON revenue doubles, will this trigger a rally in TRX price?
TRON's transaction count beats competitors Ethereum, XRP and Cardano
TRON has shown a steady trend of increase in total monthly transaction counts and overall growth each month since December 2021. According to the chart shared below, the network is heading in the right direction and the total number of transactions has been on a rise since September 2022.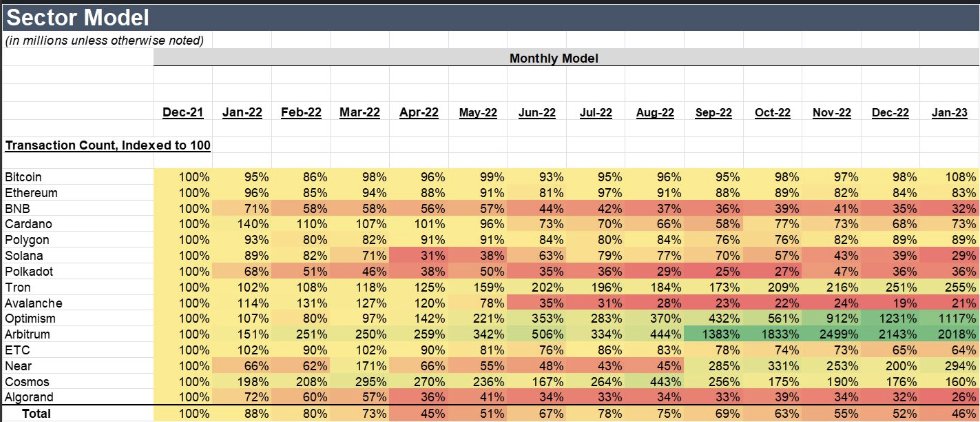 TRON statistics 
On-chain metrics like Total Value Locked (TVL) and number of transactions have been in an uptrend and this aligns with the interest of bulls holding TRX. TRON has outperformed Ethereum (ETH), XRP, Bitcoin and Cardano (ADA) in terms of transaction count. 
This development is considered optimistic for TRON and TRX token's holders as it reflects high adoption and wider usage among crypto market participants. 
TRON's partnerships have fueled a bullish narrative among TRX holders
TRON's recent partnership with Princeton Blockchain is a bullish development for the project. Such partnerships can help boost the offerings of the TRON network and make it relevant in the crypto community. 
With TRON's assistance, Princeton will be able to further its goal of introducing blockchain technology to Princeton students. The Princeton blockchain club announced that TRON DAO is their gold-tier donor for the year 2023. 
With Tron's support, the team plans to advance their mission of promoting blockchain technology at Princeton.