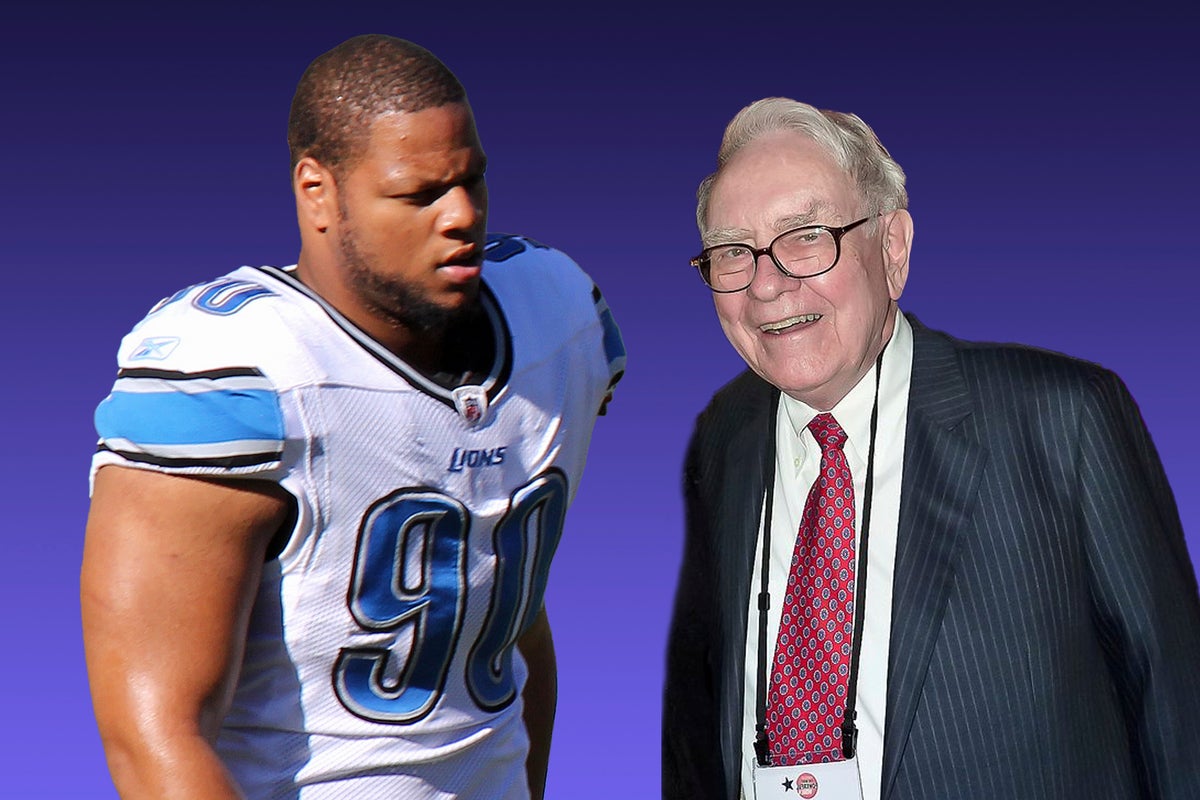 Since his days of football at the University of Nebraska, Ndamukong Suh has been one of the top defensive tackles in the sport. When he's not terrorizing quarterbacks on the NFL field today, Suh is engaged in investing and helping out the community.
Along the way, Suh gained valuable insight from one of the most legendary investors of all time.
What Happened: During his time at the University of Nebraska, Suh won nearly every award a defensive player could take home. While he may not have made friends with many opposing quarterbacks, he made friends with another famous Nebraska figure – Warren Buffett.
Suh credits the legendary investor and Berkshire Hathaway Inc (NYSE: BRK-A)(NYSE: BRK-B) CEO as an important mentor to him for his off-field endeavors.
"Mr. Buffett is great. He's one of my biggest mentors," Suh said during an interview on CNBC's Fast Money.
Suh and Buffett first met in 2009 at the University of Nebraska, where Buffett is a donor and former student. Suh and Buffett remain friends to this day and often meet to discuss investments and updates once a quarter.
A CNBC appearance of both former Nebraska Cornhuskers included an arm wrestling match between the two, which was won by Buffett. 
Suh said Buffett helped teach him the value of relationships and having good people around.
"Relationships are everything in this world. And working with good people."
Suh said that one of the reasons Buffett and Berkshire Hathaway have been successful is because of the people that lead the company and that have been empowered by the legendary investor.
Suh added that Buffett taught him two other key lessons for the future.
"My biggest relationship with him is learning how to be patient, understanding to always be prepared."
Suh said one of his major focuses today is on affordable housing and multifamily housing developments, something he believes everyone in the world should be able to access.
Suh shared details on his partnership with Intuit INTU during the CNBC interview. Suh said he is proud of his family foundation and the ability to empower kids and youth in communities.
"I didn't have the opportunity to learn it in school," Suh said of financial literacy.
Instead, Suh learned from his mom, who was a teacher, and dad, who was an engineer.
Related Link: Warren Buffett: There's Only 1 Measure Of Success, Without It 'Life Is A Disaster' 
Why It's Important: Suh was drafted second overall by the Detroit Lions in the 2010 NFL Draft. Suh's strong draft position came after finishing in fourth place in the 2009 Heisman Trophy voting.
Suh won the 2009 AP Player of the Year for college football, a first for a defensive player at the time and a record that still stands as of 2023.
Through 13 seasons, Suh has played with the Lions, Miami Dolphins, Los Angeles Rams, Tampa Bay Buccaneers and Philadelphia Eagles. Suh has 6000 tackles and 71.5 sacks in 199 career NFL games.
Suh won Super Bowl LV in 2021 with the Buccaneers and reached Super Bowl LVII with the Eagles in 2023, losing to the Kansas City Chiefs in his second appearance.
Whenever his time in the NFL is done, many will question if his career was Hall of Fame worthy. One thing that won't be questioned is if Suh is prepared for life after football and financially ready.
Thanks to lessons from his parents and Buffett, Suh has focused on financial literacy over the year.
This includes the lessons taught by Buffett about investing in companies that have "great intrinsic value" according to a 2022 interview.
"It's about being patient, understanding that this company you believe in has strong roots. It's going to have to weather the storm, but most likely if it's a very strong company, it'll come out better on the other side."
Suh's partnership with Intuit to share financial literacy with students could be a great example of giving back to the community. With lessons learned from Buffett himself, Suh's efforts to teach kids could lead to more people who know and follow investment advice from Buffett.
Read Next: How Warren Buffett's Fund Manager Turned $70K Into $264M: 'In A Perfect World, Nobody Would Know About This'
Photo: Jing Ulrich and Jeffrey Beallon Wikimedia Commons